Leslee Larson, DVM
Dr. Leslee Larson started at BEVC in 2015, after working at various small animal clinics in the Madison area. She enjoys helping people understand their pets, and prefers to focus on prevention and wellness. She earned her DVM at UW-Madison in 1997, and has also studied literature and business. When she's not in the clinic, Dr. Larson is teaching science classes at Globe University, or drilling with the US Army Reserves. At home, Dr. Larson is lucky enough to have four children who help care for many family pets including cats, dogs, a rabbit, turtle and chicken. For fun, Dr. Larson enjoys baking, running, and spending time with her family. She credits her success to having the most supportive and patient husband in the world.
Annie Sokovich, Certified Veterinary Technician

Annie lives in Middleton with her husband Danny and their two cats Nina and Gustav. She enjoys working with cats and dogs and especially likes the occasional slobbery kiss from the larger dogs. Annie graduated from UW-La Crosse in 2010 with a Bachelor's Degree in Sociology. After volunteering at the Heartland Farm Sanctuary for a year, she realized working with animals was her passion and decided to return to college and pursue a degree in Veterinary Technology. She began the program at Globe University in March and began working at the Black Earth Veterinary Clinic in June of 2014. In her free time Annie enjoys hiking, kayaking, watching movies, reading, and going out for dinner.
Cheryl Bumgarner, Veterinary Assistant
Cheryl has lived in the Mazomanie area with her husband Tom for 28 years. She has worked as a chairside dental assistant, medical assistant, and now veterinary assistant. Cheryl and Tom share their home in the country with 3 cats, Matilda, Cosmo, and Carmine, superdog Jill, and a Half-Arabian horse named Siren. Cheryl enjoys reading, gardening, walking with Jill, riding her horse, and visiting her daughter Stacey , son-in-law Travis, and baby granddaughter Adeline in beautiful Door County. Cheryl finds working at BEVC a lot of fun: great co-workers, great DVMs, great clients, and fun patients.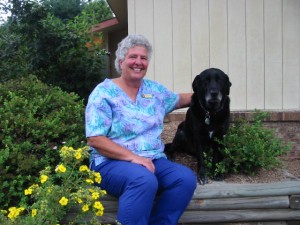 Leslie Parr, Owner, Certified Veterinary Technician
Leslie lives outside of Mt. Horeb with her husband Roger, horses Sawyer, Hawk, Rocky, Gus, and Louie, and Jack, their wonderful black lab. She graduated from MATC in the Veterinary Technician program in 1978. Leslie has worked as a Certified Veterinary Technician for 36 years in several clinics in Wisconsin. Her hobbies are trail riding, camping with horses, scuba diving, playing with dogs, gardening, swimming, skiing, and socializing.
Carson Sutter, Certified Veterinary Technician

Carson resides in her hometown of Mount Horeb with her fiancé Ryan and their two small dogs Jordy and Marzo. She also frequently visits her two horses Twister and Revel out at her father's farm in rural Blue Mounds. Carson has always had a passion for animals, so after high school she attended UW-Platteville and majored in Zoology and Evolutionary Biology. Currently, her deep-seated passion for veterinary medicine has led Carson to enroll in the Veterinary Technician program at Madison College, where she is scheduled to begin schooling in the fall of 2015. Carson loves working with animals of all shapes and sizes, but she is most looking forward to learning about Equine and Zoological Medicine. Outside of work, Carson enjoys spending time in nature and traveling with her fiancé. She also spends a great deal of time enjoying the company of her dogs and horses.
Alissa Doyle, Groomer

Alissa started grooming at Black Earth Vet Clinic in May 2015. She started grooming in 1998 and has been enjoying grooming ever since.  Her favorite thing about grooming is making grooming clients feel happy and healthy after their grooming and making a difference in their lives. She lives in Black Earth with her husband and two sons, 3 dogs, 1 cat, and her chickens. Outside of work, she enjoys spending time with her family, camping, gardening, 4 wheeling, and anything outdoors.