You can now order preventatives, food, medications, and more at our online store! Everything will ship right to your door! Check it out today! They even have treats, dental chews, and toys! You can also have your monthly preventatives auto shipped to your door so you don't forget a dose!
Pet Owners Are Alarmingly Unaware About Flea and Tick Dangers, Study Reveals

A new consumer study that reveals that there are knowledge gaps among U.S. pet owners related to the identification, prevention and treatment of fleas and ticks. Conducted by The Harris Poll on behalf of Merck Animal Health, the online study of more than 1,300 pet owners, defined as those who own a dog and/or cat, found that despite the dangers of flea infestations, ticks and Lyme disease, many pet owners may not be as knowledgeable—or as prepared—as they think.
In fact, one third (33 percent) say that they do not give their pets regular flea/tick medication and nearly half (48 percent) don't bring their pets in for routine exams to protect against these parasites.
Overall, the study found that when it comes to avoiding and treating for these pests, pet owners tend to overestimate their levels of knowledge and readiness. Specifically, more than three in five (61 percent) say they are "very knowledgeable" about fleas and ticks; however nearly two in five (38 percent) were unable to correctly identify at least one symptom commonly associated with Lyme disease. Many similarly demonstrated some level of confusion over common facts and myths—including more than one in four (27 percent) who falsely believe that fleas and ticks are only active in the spring and summer months, and one quarter (25 percent) who falsely believe that ticks can only be found in heavily wooded areas.
Younger pet owners (those aged 18-34) were especially susceptible to misinformation about fleas and ticks, and are more likely than older pet owners to falsely believe: fleas and ticks are only active in the spring and summer months (34 percent versus 24 percent of those aged 35-plus); ticks can only be found in heavily wooded areas (36 percent versus 19 percent aged 35-plus); and that dogs and cats living in urban areas don't need flea and tick protection (15 percent versus 4 percent aged 55-plus). However, the study confirmed that nearly all pet owners, regardless of age, want to keep their pets free of fleas and ticks, with 90 percent citing that they would "do anything" to protect their pets from these pests.
These knowledge gaps are particularly concerning after a new report from the Centers for Disease Control and Prevention has found that human illnesses from mosquito, tick and flea bites more than tripled in the United States from 2004 to 2016. According to the report, there were more than 36,000 Lyme disease incidents reported in the United States in 2016 alone. Fleas and ticks can easily latch onto dogs and cats, and can spread serious illnesses, including Lyme disease. Once inside a home, they can also bite and pose health risks to human family members. Ticks can be found in most states in the U.S.; the Northeast, Mid-Atlantic and Great Lakes regions have particularly high risks of Lyme disease.
"Lyme disease has been found in every state in the U.S., and can be fatal to our four-legged family members if left untreated," said Dr. Dan Markwalder of Companion Animal Hospital in Chicago. "Since nearly all dogs and cats are at risk of picking up fleas and ticks and transmission of the disease occurs within as little as 24 to 48 hours, preventative measures are key. No matter the season or habitat, flea and tick protection is essential for all canine and feline pets, year-round."
According to the study, almost three-quarters of pet parents (72 percent) don't research flea and tick prevention, and only half (50 percent) say they treat their pets year-round.
"Fleas and ticks can carry serious, life-threatening diseases, and they are active in almost all climates and environments throughout the U.S.," said Dr. Dottie Normile, associate director, scientific marketing affairs at Merck Animal Health. "This study shows just how important it is for pet parents to be informed and prudent when it comes to protecting their pets from these pests."
To keep pets safe from fleas and ticks, Drs. Markwalder and Normile recommend that pet owners: consult a veterinarian to have pets protected year-round, check pets and family members regularly for ticks, remember that indoor pets are as much at risk of contracting fleas and ticks as outdoor pets, and visit a doctor or veterinarian right away if you suspect that a person or a pet has come into contact with ticks or fleas.
For more on how pet owners can detect and treat flea and tick infestations, click here.
Read more
FDA Investigation into Potential Link between Certain Diets and Canine Dilated Cardiomyopathy
Click here to read the story
Updated June 27, 2019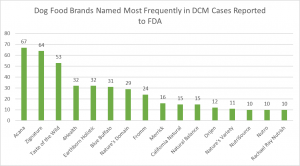 Cat Food Advisor is Coming Soon! Check Back Often!
!!Fleas!! Myth vs Fact!

My house has no carpet, so I do not have to worry about fleas in my home.
Fact: Flea eggs will drop off the pet and accumulate in the cracks of hardwood floors and along the baseboards. The larvae will then move deep into these crevices to avoid exposure to light. Fleas can survive and multiply in most environments.
I do not see fleas on my pet, so there must not be any.
Fact: Visible adult fleas are only a small portion of the infestation. Fleas exist in the environment as ≈57% eggs, 34% larvae, 8% pupae, and 1% adults. Fleas are difficult to see on many types of hair coats. They can be harder to see on cats, who are very good at removing the fleas when they groom. 
My pet never leaves my yard, and my lawn is short and well maintained.
Fact: Fleas will survive in any shady, moist environment where pets rest.
I do not need to use preventives during the winter months.
Fact: Fleas can survive for 10 days at 37.4oF. In cold climates, adult fleas survive on the warm bodies of dogs, cats, and other mammals, and indoors within pupal casings as pre-emerged adults.
I give my dog garlic as a natural flea preventive.
Fact: Garlic ingestion is an ineffective flea remedy that can have negative health effects. Garlic toxicity can result in oxidative damage to erythrocytes, which may lead to Heinz body formation, hemolytic anemia, methemoglobinemia, and impaired oxygen transportation.
12 Dog Diseases You Can Combat with Vaccination and Deworming
1. Rabies (this can be spread to people)
2. Canine parvovirus infection ("parvo")
3. Canine distemper
4. Leptospirosis
5. Canine adenovirus-2
6. Canine parainfluenza
7. Canine enteric coronavirus
8. Canine influenza
9. Lyme disease
10. Bordetella ("kennel cough")
11. Heartworm disease
12. Intestinal worms (roundworms, hookworms, whipworms, tapeworms, etc., some of which can also infect people)
8 Cat Diseases you Can Prevent with Vaccination and Deworming
1. Rabies (this can be spread to people)
2. Feline panleukopenia (feline distemper)
3. Feline herpesvirus infection
4. Feline calicivirus infection
5. Feline leukemia (FeLV)
6. Feline immunodeficiency virus (FIV) infection
7. Heartworm disease
8. Intestinal worms (roundworms, hookworms, whipworms, tapeworms, etc., some of which can also infect people)
See the Difference a Dental Cleaning Can Make for Your Pet!
Proper dental care can detect dental disease that not only affects the mouth, but can also lead to more serious health problems such as heart, lung, and kidney disease. Good dental hygiene is just as important for pets as it is for humans. Yet, it is one of the most overlooked areas in pet health. Studies by the American Animal Hospital Association (AAHA) reveal that nearly two-thirds of pet owners do not provide the dental care recommended by veterinarians.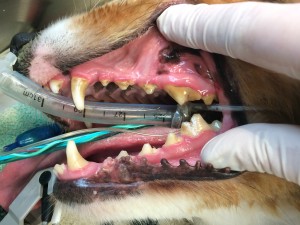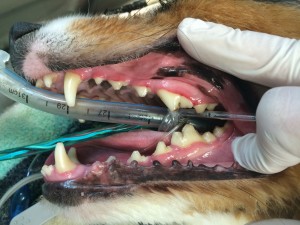 Fact!
More than ¾ of all respiratory infections in cats are caused by feline rhinotracheitis or calicivirus. These can cause cold-like clinical signs, pneumonia or other severe signs and are easily transmitted among cats through secretions. The good news: they can be prevented with regular vaccinations.
Did you know??
Disease immunity inherited by puppies and kittens thanks to their mothers' antibodies typically wears off at around 8 weeks of age. Since young animals' immune systems are still fragile at that stage, it's better to vaccinate your pet sooner rather than later.
Fact!
Even if your pet stays mostly indoors, many contagious diseases are airborne and could even travel through an open window, says the American Humane Association—so regular vaccinations are crucial regardless of whether your pet goes outside.