Memorial Day 2023
We will be closed on Monday, May 29th in observance of Memorial Day. We will be back in the office on Tuesday, May 30th. If you have an emergency, please do not hesitate to contact Veterinary Emergency Services at 608-831-1101 or Madison Veterinary Specialists at 608-274-7772. Have a safe long weekend everyone!
We are now giving you the option for 1 family member to come in with your pet! Please continue to call when you arrive so that we can ensure that we have a room available for you! You are also welcome to continue to utilize curbside if you would like! We ask that technician appointments and medication pickups remain curbside as well. Thank you for your continued support and understanding! We will continue to have normal weekday hours Monday-Friday 8am to 5:30pm and will continue to be closed on Saturdays

We are accepting new clients with the veterinary clinic again! Please call us at 608-767-3400 to set up an appointment! We look forward to meeting you and your pets!
Current Coronavirus Clinic Policy
Thanks for helping us keep everyone healthy!
Concerned about costs during COVID-19?! We are now partnered with Scratchpay to offer you simple, friendly payment plans. These payment plans can help you pay for a dental, procedure, routine care, or preventatives for your pet!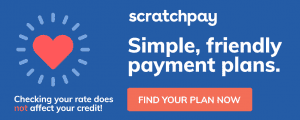 We offer payment plans through our partner, Scratchpay. Scratchpay helps to make difficult financing decisions simple. There are three plan types, starting as low as 0% APR and spanning 8 weeks, 12 months, or 24 months. Checking to see which plan is best for you only takes 90 seconds and does NOT affect your credit score. Learn more at Scratchpay.com!
You can now order preventatives, food, medications, and more at our online store! Everything will ship right to your door! Check it out today! They even have treats, dental chews, and toys! You can also have your monthly preventatives auto shipped to your door so you don't forget a dose!
What You Should Know About Preventing Fleas and Ticks

Click the map below to learn more about vector-borne disease in our area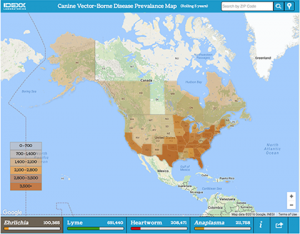 The thought of insects crawling on your skin and living off your blood probably, well, makes your skin crawl. Yet, too often as pet owners, we allow fleas and ticks to treat our pets like bed-and-breakfasts. And it is only after these pests make themselves at home that we might realize showing them the door can be difficult, expensive and painfully slow.
Fleas and ticks aren't just irritating and distasteful; they can lead to medical problems. Flea allergies can cause severe itching and skin damage; fleas can also carry the causative agents of cat-scratch disease, while ticks carry the organisms that can lead to debilitating illnesses like Lyme disease and Rocky Mountain spotted fever. So it's crucial to continuously and effectively prevent infestations of these parasites for the health and safety of our pets, our families and ourselves.
Veterinary Health Care Team

Every veterinary hospital staff consists of a team of caring individuals, each contributing his or her unique abilities to ensure high quality veterinary care for animals and compassionate interactions with animal owners. Dedication to service remains a top priority.
The Veterinarian – Leading the Team
Veterinarians are doctors trained to protect the health of both animals and people. In a clinical hospital environment, veterinarians work with large and small animals to evaluate animals' health; diagnose and treat illnesses; provide routine preventive care; prescribe medication; and perform surgery. Some veterinarians specialize in areas such as surgery, internal medicine, ophthalmology or dentistry.
Animals and COVID-19 According to the CD

C

At this time, there is no evidence that animals play a significant role in spreading SARS-CoV-2, the virus that causes COVID-19, to people. More studies are needed to understand if and how different animals could be affected by SARS-CoV-2.
Some coronaviruses that infect animals can be spread to people and then spread between people, but this is rare. This is what happened with SARS-CoV-2, which likely originated in bats.
Click here to learn more about Animals and Covid-19
Interested in Acupuncture and/or Spinal Manipulation?

We are now offering Spinal Manipulation in clinic with Dr Hoffman! Dr Hoffman is certified in Veterinary Spinal Manipulation Therapy (VSMT). Please call us for details!

Acupuncture Services are performed on a case by case basis by Dr. Jennifer Lorenz upon request
Dr. Lorenz is certified in Veterinary Acupuncture and Veterinary Spinal Manipulation Therapy (VSMT)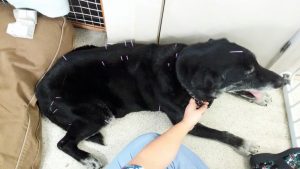 Cat Food Advisor is Coming Soon! Check Back Often!
!!Fleas!! Myth vs Fact!

My house has no carpet, so I do not have to worry about fleas in my home.
Fact: Flea eggs will drop off the pet and accumulate in the cracks of hardwood floors and along the baseboards. The larvae will then move deep into these crevices to avoid exposure to light. Fleas can survive and multiply in most environments.
I do not see fleas on my pet, so there must not be any.
Fact: Visible adult fleas are only a small portion of the infestation. Fleas exist in the environment as ≈57% eggs, 34% larvae, 8% pupae, and 1% adults. Fleas are difficult to see on many types of hair coats. They can be harder to see on cats, who are very good at removing the fleas when they groom. 
My pet never leaves my yard, and my lawn is short and well maintained.
Fact: Fleas will survive in any shady, moist environment where pets rest.
I do not need to use preventives during the winter months.
Fact: Fleas can survive for 10 days at 37.4oF. In cold climates, adult fleas survive on the warm bodies of dogs, cats, and other mammals, and indoors within pupal casings as pre-emerged adults.
I give my dog garlic as a natural flea preventive.
Fact: Garlic ingestion is an ineffective flea remedy that can have negative health effects. Garlic toxicity can result in oxidative damage to erythrocytes, which may lead to Heinz body formation, hemolytic anemia, methemoglobinemia, and impaired oxygen transportation.
12 Dog Diseases You Can Combat with Vaccination and Deworming
1. Rabies (this can be spread to people)
2. Canine parvovirus infection ("parvo")
3. Canine distemper
4. Leptospirosis
5. Canine adenovirus-2
6. Canine parainfluenza
7. Canine enteric coronavirus
8. Canine influenza
9. Lyme disease
10. Bordetella ("kennel cough")
11. Heartworm disease
12. Intestinal worms (roundworms, hookworms, whipworms, tapeworms, etc., some of which can also infect people)
8 Cat Diseases you Can Prevent with Vaccination and Deworming
1. Rabies (this can be spread to people)
2. Feline panleukopenia (feline distemper)
3. Feline herpesvirus infection
4. Feline calicivirus infection
5. Feline leukemia (FeLV)
6. Feline immunodeficiency virus (FIV) infection
7. Heartworm disease
8. Intestinal worms (roundworms, hookworms, whipworms, tapeworms, etc., some of which can also infect people)
See the Difference a Dental Cleaning Can Make for Your Pet!
Proper dental care can detect dental disease that not only affects the mouth, but can also lead to more serious health problems such as heart, lung, and kidney disease. Good dental hygiene is just as important for pets as it is for humans. Yet, it is one of the most overlooked areas in pet health. Studies by the American Animal Hospital Association (AAHA) reveal that nearly two-thirds of pet owners do not provide the dental care recommended by veterinarians.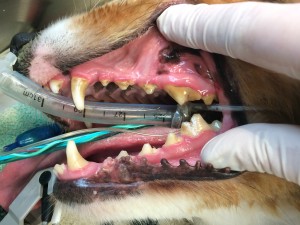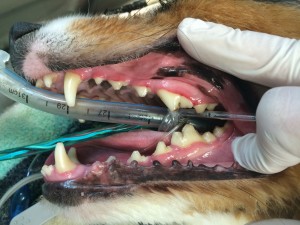 Fact!
More than ¾ of all respiratory infections in cats are caused by feline rhinotracheitis or calicivirus. These can cause cold-like clinical signs, pneumonia or other severe signs and are easily transmitted among cats through secretions. The good news: they can be prevented with regular vaccinations.
Did you know??
Disease immunity inherited by puppies and kittens thanks to their mothers' antibodies typically wears off at around 8 weeks of age. Since young animals' immune systems are still fragile at that stage, it's better to vaccinate your pet sooner rather than later.
Fact!
Even if your pet stays mostly indoors, many contagious diseases are airborne and could even travel through an open window, says the American Humane Association—so regular vaccinations are crucial regardless of whether your pet goes outside.