Becca Phillips, Certified Veterinary Technician
Becca lives outside of Blanchardville with her husband Kevin, her dogs Chaos, Josey Wales and Jasper, her horses Buddy and Little Brother, and her cats Lefty, Fuzzy, and Trevor. She has been interested in veterinary medicine since she was a little girl. She graduated from Globe University's Veterinary Technician program in September of 2013 and has been working at Black Earth Veterinary Clinic since January of 2014. Outside of work, Becca enjoys gardening, horseback riding, cooking, fishing, campfires, and playing with her dogs.
Emma Risley, Veterinary Assistant

Emma lives outside of Sauk Prairie with her three dogs, Jackson, Roz, and Winnie, her cat Hobbes, and her snake Minka. Emma has experience with a wide variety of animals and animal husbandry. She graduated from UW Platteville with degrees in Animal Science and Agricultural Business. She spent several years working with thoroughbreds in Lexington, KY before moving home. Her interests include herbal and CBD treatment solutions for animals and gardening.
Tanya Hoffman, DVM, CVSMT

Dr Tanya lives outside of Monticello with her husband and 2 kids, their dog Aspen, and their cat Ben. Tanya taught in the Veterinary Technician program at MATC for a number of years producing a lot of the wonderful veterinary technicians in the Madison area. Tanya has worked with Black Earth Vet as an occasional fill-in doctor for a few years, and now she has decided to come work with us full time and get back into general practice. Tanya's special interests are in veterinary spinal manipulation therapy and herbal medicine.
Alesia Riley, Certified Veterinary Technician
Alesia lives on the outskirts of Baraboo with her significant other and their two cats Topaz and Everest. She graduated from the Rockford Career College Veterinary Technician Program in 2020 and has been with BEVC since July of 2021. In her free time some of the activities she likes to do are fishing, hunting, garden tractor pulling, hiking, camping and being outdoors.
Alissa Doyle, Groomer

Alissa started grooming at Black Earth Vet Clinic in May 2015. She started grooming in 1998 and has been enjoying grooming ever since.  Her favorite thing about grooming is making grooming clients feel happy and healthy after their grooming and making a difference in their lives. She lives in Black Earth with her husband and two sons, 3 dogs, 1 cat, and her chickens. Outside of work, she enjoys spending time with her family, camping, gardening, 4 wheeling, and anything outdoors.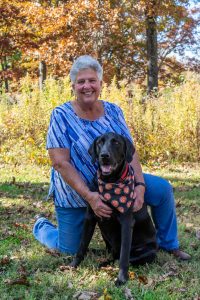 Leslie Parr, Owner, Certified Veterinary Technician
Leslie lives outside of Mt. Horeb with her husband Roger, horses Sawyer, Hawk, Rocky, Gus, Louie, and Vinnie, and Mac, their wonderful black lab. She graduated from MATC in the Veterinary Technician program in 1978. Leslie has worked as a Certified Veterinary Technician for many years in several clinics in Wisconsin. Her hobbies are trail riding, camping with horses, scuba diving, playing with dogs, gardening, swimming, skiing, and socializing.
Milann Ebbert, Certified Veterinary Technician

Milann studied at Madison College in the Veterinary Technician program, graduating in 2018. Milann recently joined the team in November 2022. Her favorite part of the job is being able to educate owners on their pet's wellness care. In her free time, Milann enjoys learning new hobbies, cuddling with her houseful of critters and kayaking.
The Veterinary Team
Veterinary Health Care Team
Every veterinary hospital staff consists of a team of caring individuals, each contributing his or her unique abilities to ensure high quality veterinary care for animals and compassionate interactions with animal owners. Dedication to service remains a top priority.
The Veterinarian – Leading the Team
Veterinarians are doctors trained to protect the health of both animals and people. In a clinical hospital environment, veterinarians work with large and small animals to evaluate animals' health; diagnose and treat illnesses; provide routine preventive care; prescribe medication; and perform surgery. Some veterinarians specialize in areas such as surgery, internal medicine, ophthalmology or dentistry.
In addition to opportunities in clinical practice, veterinarians may work in zoos, wildlife parks, or aquariums; focus on public health and regulatory medicine; enter academia or research; or they may pursue other career paths. Personal attributes that contribute to a successful career as a veterinarian include a strong science and math education, the ability to work well with animals and their owners, basic business and management training, excellent communication skills, and leadership and organizational skills.
The Veterinary Technician
Veterinary technicians perform valuable medical and non-medical services in clinical practice. They are graduates of an AVMA-accredited veterinary technology programs and usually have an Associates or Bachelors degree. The veterinary technician is educated and trained to support the veterinarian by assisting with surgery, laboratory procedures, radiography, anesthesiology, treatment and nursing, and client education. Almost every state requires a veterinary technician to pass a credentialing exam to ensure a high level of competency.
Some veterinary technicians pursue specialties in emergency and critical care, anesthesiology, internal medicine, animal behavior, or dentistry. Personal attributes that contribute to a successful career as a veterinary technician in clinical practice include a strong science background, an ability to work well with people and animals, and good communication and decision-making skills.
The Veterinary Hospital Manager
Many veterinary hospitals find that having a hospital (or practice) manager greatly improves the team's efficiency. This person is responsible for managing the business functions of the practice. Depending upon the size and type of hospital, the manager's duties could include personnel hiring and supervision, budget and inventory management, accounting, marketing, and developing recordkeeping and other business standards for practice. A strong business background, computer knowledge, and desire to work with and manage people are key attributes for success as a hospital manager.
The Veterinary Assistant
In some hospitals, a veterinary assistant supports the veterinarian and/or the veterinary technician in their daily tasks. The assistant may be asked to perform kennel work, assist in the restraint and handling of animals, feed and exercise the animals, or spend time on clerical duties. There is no credentialing exam for the veterinary assistant; however, training programs are available (see www.navta.net). The ability to listen, communicate efficiently, and handle multiple assignments are skills that make a veterinary assistant an important member of the hospital team.
The Receptionist
The receptionist or client service representative is usually the first person to welcome a client into the hospital and the last person the client sees when they leave. The interactions he or she has with a client can determine how the client perceives the quality of medical services being offered. A good receptionist must have excellent communication skills and be able to handle a variety of questions and requests from clients and the public. In addition to setting appointments, responding to inquiries about hospital services, greeting clients, and managing callbacks, a receptionist may also perform accounting, marketing, or client counseling duties. A customer service-focused attitude, the ability to manage multiple tasks, and professionalism under stress are important attributes for a hospital receptionist.
Other Team Members
The hospital team may also include an adoption counselor, a grief counselor, administrative assistant, kennel or barn workers, and part-time volunteers. Everyone has an important role to play in assuring the health and well-being of the hospital's patients and the owners who care for them.